Disclosure: This post contains affiliate links to products. I may receive a commission for purchases made through these links.
A lot of companies struggle with writing great product descriptions.
There's probably been a time in your life where your eyes glazed over or rolled into the back of your head after reading a less-than-appealing product description.
A jacket that's "just the right fit" or a dress that "accentuates your every curve."
A couch that's "comfortable, yet firm" or a coffee table that "ties everything in the room together."
So many companies miss the mark when it comes to writing great product descriptions, especially small businesses without a good writer on their content team.
But just because you're not a writer, doesn't mean you shouldn't be able to create compelling product descriptions that appeal to your target audience, right?
But, What If I Have No Experience?
Even if you have no experience writing product descriptions (because most business owners don't), you can still craft compelling product descriptions that get people buying what you're selling.
It might take some time, but once you've got it down, you'll be cranking out product descriptions quicker than you can say supercalifragilisticexpialidocious.
Or, you could always go the alternative route and hire someone to write them for you.
No shame in that either.
But if you want to at least attempt to do it yourself to save some money (or just because you pick things up pretty quickly – like me), here's how you can start creating compelling product descriptions that make your products much more enticing to your ideal customers.
Help, I Don't Know What to Write!
If you have absolutely no idea where to start, that's completely normal. The following are steps you can take to create amazing product descriptions that get results.
Identifying Your Target Audience
Start with your target audience. Who's going to be the customer to buy your product? Who are they? Why would they be interested in what you're selling?
Are they a single mom from Michigan that needs to replace her old couch she's had for 10 years?
Or are they a college grad looking for a new dress or top for their next Zoom interview?
Think about your target audience and put yourself in their shoes. What would make them buy from you?
Discuss Benefits, Not Features
While it's good to know the features of what you'll be buying, that's not quite the way to make the sale (not until the end anyway).
Instead, start with the benefits. How would your ideal buyer benefit from buying your product(s)?
The benefits speak to how the product would make their lives better or easier. Tell them how they'll feel or look after buying your product.
Avoid Being Predictable and Stating the Obvious
One way to avoid this is to be as specific as possible.
Don't use generic phrases, like "great quality." Instead, describe the benefits of using quality material.
For example, you might say something like "You won't have to worry about chafing in these because they're made from 100% cashmere."
You get the idea.
Don't Use Too Many Superlatives (Unless You Can Back Them Up)
Superlative phrases like "best value" or "most advanced" don't really make much of a difference to customers (unless you can back them up in some way).
For example, if your product was rated one of the "Best Products of 2020" by an organization or reputable publication, there's no need to include such a phrase because it'll sound insincere.
Paint a Vivid Picture
As you've already learned, showing your ideal buyers how your product can help them is essential. You can do that by painting a vivid picture so they can imagine themselves using your product and (as mentioned before) emphasizing how they'll look or feel when they do it.
Essentially, you're telling a short story featuring them as the main character.
When painting that picture, use sensory words.
Sensory words are more powerful and more memorable than other words because they paint a picture, allowing your reader to feel, taste, smell, hear, or see your words. The human brain processes sensory words differently – you'll actually feel like you're eating that succulent slice of triple chocolate cake or feeling the sensation of the soft cashmere fabric against your skin.
So it would only make sense that sensory words can help increase sales.
Give it a try. Practice writing a description for your product using sensory words.
Make it Scannable
Don't just write a big block of text and hope people read it. Instead, make your content scannable by using images, bullets/lists, and plenty of white space.
Using headlines can also make your product description more readable, but make it interesting. Don't just use the name of the product.
Use Social Proof
I talked about this in my post How to Sell (Almost) Anything Online Using the Science of Persuasion.
Take a quick look if you haven't read it already because it discusses the impact social proof can have on your marketing efforts.
You can use social proof to boost your credibility.
If potential customers see that other people are buying your products and leaving great reviews, they're much more likely to follow suit.
What Should I Avoid?
One of the things you should avoid at all costs is simply describing the product.
Let the customer know what's in it for them. They don't care about you (as harsh as it might sound). They care about how a product is going to enhance their lives.
Take a look at some great product descriptions you may just find yourself emulating (without copying!).
Examples of Great Product Descriptions
Let's take a look at how some of the greats are doing it.
1. Unicorn Fart
The name alone makes you want to giggle and the silliness spills out into the product description. They mention that no unicorns were harmed in the making of these candles. Clearly, this is a product description that's going to sell some candles. (Don't be afraid to use a little humor in your product descriptions.)
2. Pottery Barn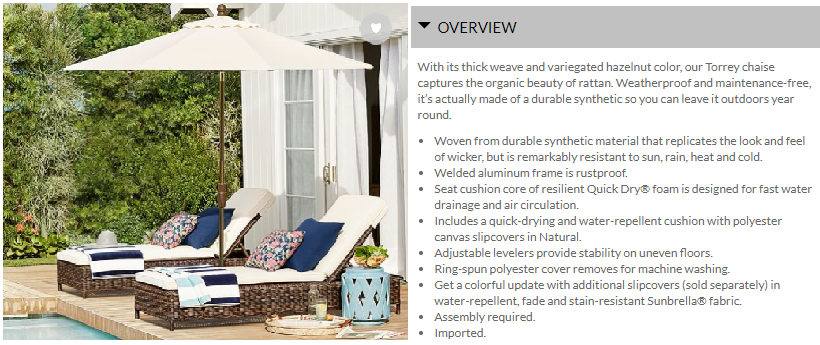 Pottery Barn clearly knows their audience is women who apparently don't like messes (which is why they mention that this product is "maintenance-free" and that it's "designed for fast water drainage and air circulation."). No one likes anything with too much upkeep and they know this. And people want their nice things to last a long time, which is why they mention "durable synthetic material" that's "remarkably resistant to sun, rain, heat, and cold."
3. Everlane
Everlane does a great job right off the bat by using icons and listing the details of the product to make it easier for their customers to read (or scan). They provide the benefits ("spot clean with a cloth") and use the language that their target audience would respond to ("A heel you can walk in. All.Damn.Day.").
4. Dollar Shave Club
The Dollar Shave Club makes things easy to scan by using checkmarks and highlights the benefits of using their products (i.e., helps soften hair for maximum glide, fights razor bumps, etc.). They also provide a crisp, clean look with plenty of "white space," which is ideal.
5. Oxford Shop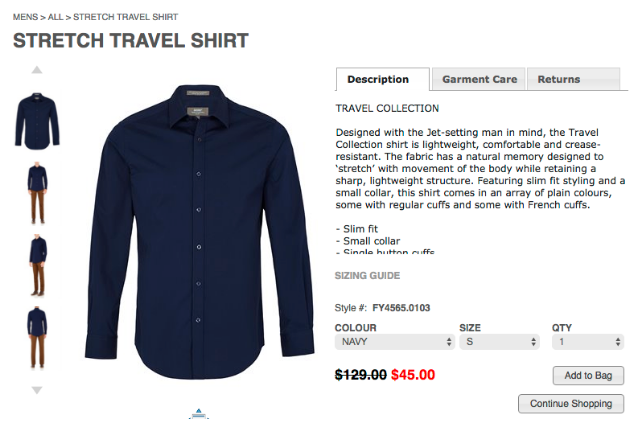 The company did a great job putting the reader in this shirt with the mention of a "Jet-setting man." They follow up with the benefits (a natural memory designed to 'stretch' with movement of the body). And on top of that, they use a bulleted list to break up the information and make it easy to scan.
The best product descriptions dive into the reader's life and help them imagine themselves in a scenario or situation in which they're getting what they want.
Get to Writing
Writing great product descriptions, like most things in marketing, begins with knowing who you're selling to and speaking their language and acknowledging and offering a solution to their problems. They should be fun, creative, and tell the reader how it will improve their lives.
Was this article helpful? Let me know in the comments and don't forget to share on your favorite social network.